Patti Smith
… and you're fucking free!

21. Juli 2015, Karlsruhe, Tollhaus
Schamanin beschwört Horses!

</span>Mit Ikonen ist es so eine Sache, oft unter Glas, museal aufbewahrt, keine Chance auf Nähe. An diesem Abend überwältigt "The Godmother of Punk" (noch so eine Sache) das bis auf den letzten Stehplatz ausverkaufte Tollhaus-Zelt und kommt uns nahe – so wie vor 40 Jahren (der Autor dieser Zeilen korrigiert auf persönliche 35) mit dem wegweisenden Horses-Album, produziert von John Cale.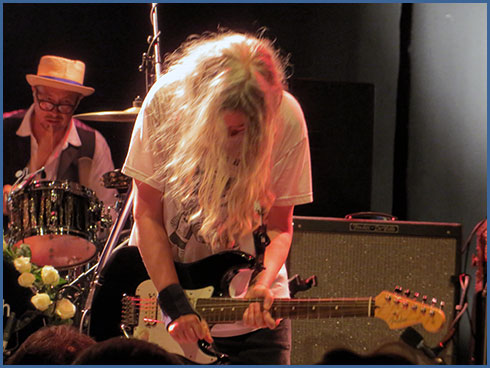 "Feel your power" rifft die inzwischen 69jährige ins fassungslose Auditorium, "Jesus starb für jemandes Sünden, aber nicht für meine!" – Van The Man's "Gloria" erlebt eine Frischzellenkur, ein Klassiker, dem der Oldie-Deckmantel runtergerissen wird, gnadenlos, schonungslos, entlarvend.
Permanent scharfe Eröffnungsriffs von Lenny Kaye, maskuliner Alter Ego der Hohepriesterin des Mittsommers. Polyrhythmischer Endzeit-Reggae "Redondo Beach", die Jim-Morrison-Predigt "Break it up", das Fanal des Todes, wahrhaft elegisch "Elegie" , die laute, stille Andacht an Jimi, an Lou, an Ehemann Fred, um uns, überwältigt und doch nicht hoffnungslos, zurückzulassen. Ein Album wie keines!
Gift und Galle sind nur die eine Seite von Patti Smith. Das eigentliche Programm nach der Vinyl-Großtat ist nicht minder unaufgeregt, "Waiting for my man" sorgt für die Gänsehautattacke in Set II. Die "Youngster" Jack Petruzelli (b) & Tony Shanahan (g, p) erweitern den Sound- und Rhythmuskosmos der Urgesteine Daugherty und Kaye. Und Patti? Die hält ihre Predigt, rotzt ein weiteres Mal auf den Boden … nach nicht ganz zwei Stunden ist es dann endlich soweit: We're fuckin' free!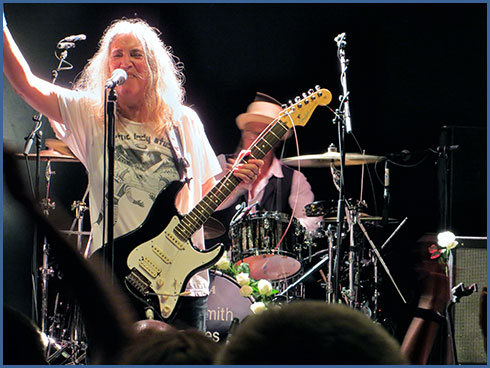 Die Band:
Lenny Kaye – guitar
Jay Dee Daugherty – drums
Tony Shanahan – bass, keyboards
Jack Petruzzelli – guitar, bass, keyboards
Setlist (complete performance of "Horses"-LP)
Gloria (Them cover)




Redondo Beach




Birdland




Free Money




Kimberly




Break It Up




Land




Elegie



Regular Set:
Beneath the Southern Cross


Rock & Roll, I'm Waiting for the Man, White Light/White Heat

(The Velvet Underground medley)


Because the Night


People Have the Power
Encore:

My Generation (The Who cover)
Die Alben:
Horses (1975)
Radio Ethiopia (1976)
Easter (1978)
Wave (1979)
Dream of Life (1988)
Gone Again (1996)
Peace and Noise (1997)
Gung Ho (2000)
Trampin' (2004)
Twelve (2007)

Banga (2012)

Gunther Böhm

</p>