Abi Wallenstein,
Dave Goodman, Steve Baker

7. November 2014, Mannheim, HBF
Ich bin mir nicht sicher, ob ich den Titel schon "verbraucht" habe, nach den Ereignissen im Mannheimer Bahnhof kann es nur einen geben:
Blues! Blues! Blues! oder Abi-Dur zum Quadrat


Volle Risikobreitschaft! Bahnerstreik!! Oh Mann, das Retourtaxi würde vierzig Flocken kosten. Egal, bin eh spät dran, Schuhe noch halb offen, der "Kittel" weht, ich renne was der Ranzen hergibt. Was ist das? Was geht hier ab? Der Bahnhof ist rappelvoll. Sprint zur Rolltreppe, auf der anderen Seite wieder runter, schneller Mann, mach Platz Trottel, endlich, die Bühne zentral, blick nach links, das Pisshaus, nach rechts, das Parkhaus, frontal auf Blues-Abi. Blues-Koordinaten zwischen Streik, Urin, Diesel, Bier und Müllermarkt-Parfüm. Es ist angerichtet.
Der Hamburger 12-Takter ist schon eingerollt, mir fehlen ein paar Songs, bekomme gerade noch 'ne CCR-Nummer mit. Es rumpelt, rockt und rollt, nicht die Züge, Wallenstein-Abi, der Finger-Picker, Blues-Pogo im Hauptbahnhof.
Bummbummbummbumm-bummbumm, "I can't be satisfied" yeah-yeah, genauuuh, uhuhuhu-uhuh, zweiii Bie-ier!! Christoph zieht an als gäbe es kein Morgen. Phänomenal was Mugge zur richtigen Zeit am richtigen Ort aus uns machen kann …
Meine Güte, was und wen habe ich in diesem an Ereignissen nicht wirklich armen Jahr erlebt: Soundgarden auf 'ner Quasi-Privatparty, Young-Rich der meine Kutte signiert, den Elder-Statesman der Ben-Miller-Band mitten auf einer Brücke überm Colorado-River getroffen, Lucinda Williams, Private-Heavy-Metal-Pool-Party und – die Stones in Berlin und Düsseldorf. Nicht zu toppen, wahrhaftig, mit einer kleinen Ausnahme: niemand, nochmals n-i-e-m-a-n-d (ich meine keiner!) hat eine derartig energetische Version von "Honky Tonk Women" abgeliefert. Der Riffmeister würde lächeln. Der Bahnhof ist aus dem Häuschen, da brauchst du keine Züge, zumindest keine die fahren. Wallenstein spielt Open-Tuning, so wie der Meister, nur schrubbt und bürstet Abi nicht fünf Saiten sondern gelegentlich unwahrscheinliche acht.
I met a gin soaked, bar-room queen in Monnem,
She tried to take me Downstairs for a ride.
She had to heave me right across her shoulder
cause I just cant seem to drink you off my mind.

"Maybelline", mach mal 'ne kurze Pause.
Christoph schafft Mönchhof an, ich lümmel bei Abi rum, ein Bier wird freundlich abgelehnt, "lieber eine Tasse schwarzen Tee, bitte"… gerne! Die Setlist? "Nee, die kannst du nicht fotografieren, weiß selbst nie so genau, was ich spiele! Aber frag mal Dave, der hat eine liegen, kannst du bestimmt haben."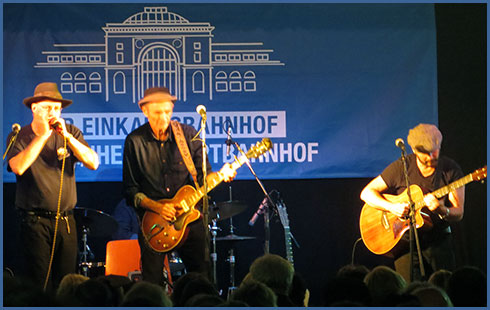 Das Blues Trio Dave Goodman, Steve Baker und der völlig entspannte Trommler Oliver Spanuth orientieren sich eher an eigenen Songs, auf einem Level, das den Laien staunen lässt. Steve Baker brilliert mit seinem voluminösen aber unaufdringlichem Harpspiel, Dave Goodman steht auf der akustischen Abi's elektrischer in nichts nach, Spanuth hält den Blues-Beat wie Charlie, ohne Mätzchen. Sonny Terry und Brownie McGhee mit Schießbude im Rootssuit in 2014.
Ebenso wenig fehlt Boogie-Bo's "Who Do You Love" und ich glaube auch Lead Belly's "Goodnight Irene" zu erinnern, auch wenn es nicht auf der Setlist steht – Christoph war noch öfter 1,50 €-Mönchhof ranschaffen. Da das Bier nun mal bekanntermaßen sein Recht fordert und der Zahlautomat jedes Mal einen 0,50 € Einlösebon ausspeit, war das so eine Art "Freitag-Abend-Bahnhof-Blues-Perpetuum-Mobile". Das Finale ist dann ziemlich funky: "Sex Machine". Ich schaue rechts und links, lassen wir das lieber …
Ein Bus bringt uns ins beschauliche Schwetzingen zurück. Hier regiert Mozart. Da bekommst du glatt den Blues!!
Setlist: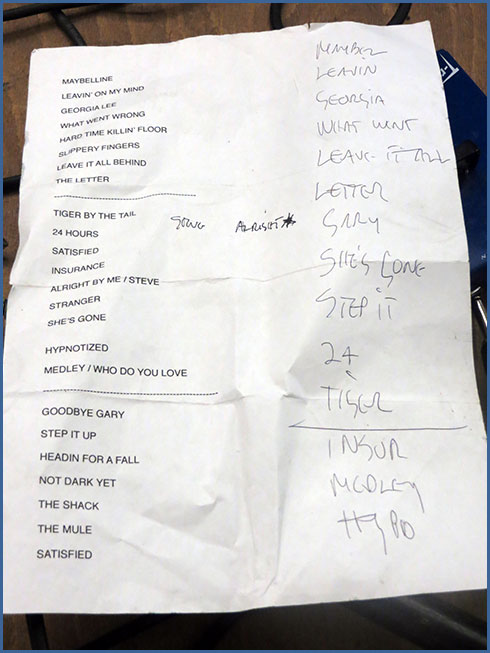 Abi Wallenstein Alben:
Bad News Reunion, Live im Logo (1978, LP)
Bad News Reunion, The Easyiest Way (1980, LP)
Bad News Reunion, Two Steps Forward(1981, LP)
Bad News Reunion, Last Orders Please (1982, LP)
Bad News Reunion, Just One Night (1989, LP)
Abi Wallenstein ft. Uli Kringler, Christoph Buse, Stefan Gade,
Rockin' Shoes (1989, LP)
Abi Wallenstein ft. Henry Heggen und Steve Baker,
Two Times 2 (1993, CD)
Abi Wallenstein ft. Joja Wendt, Good Morning Blues (1995, CD)
Abi Wallenstein ft. Lars-Luis Linek, Blues, Shuffle, Cajun (1995, CD)
Abi Wallenstein ft. Henry Heggen, Steve Baker und Christoph Buse, (1996, CD)
Abi Wallenstein mit Joja Wendt, Blues on Air (1998, Live - CD)
Abi Wallenstein & Friends, For Hinz & Kunzt (1999, CD)
Abi Wallenstein und Steve Baker, In Your Face (2000, CD)
Abi Wallenstein ft. Henry Heggen, Steve Baker, Martin Röttger 
Step in time (2003, CD)
BluesCulture, Blues Culture (2007, CD)
BluesCulture, In Concert (2009, Live - CD)
Steve Baker Alben:
The Wine Dark Sea
In Concert
King Kazoo
Blues Culture
Gotta Look Up
Smoke And Noise
Everybody's Cryin' Mercy
Slow Roll
Dave Goodman Band Alben:
Blues Culture
Opportunity
No Rest For The Wicked
Blues Licks & Tricks
Blue
Side Of The Road
Moments
Rocks, Skies & Waters
Roadbook Rhymes
Live '96
Even More Bay Area Blues
S.F. Blues Guitar Summit

Gunther Böhm

</p>