George Thorogood

27. Juli 2015, Karlsruhe, Tollhaus
Better than the rest

</span>I was a rebel from the day I left school
Grew my hair long and broke all the rules
I'd sit and listen to my records all day
With big ambitions of where I could play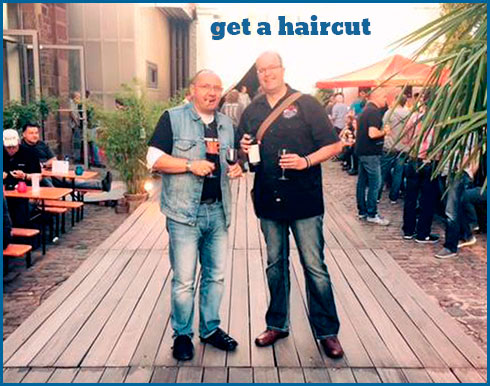 Als die Ziegenbärte Grunge analysierten (und festzustellen vergaßen: gibt es gar nicht!) erklärte der Boogie-Blueser all den Bikern, Maurern, Truckern & Trinkern und Luftgitarrenhelden: "Get a haircut and get a real job". Der Haircut hat sich biologisch ergeben (ganz ohne Schere), der "real Job" naja, lassen wir das. Eine Hymne, die, soviel ist sicher, auf jedem Sampler der 90er, der Qualität verantwortet, draufgepresst gehört. Knapper könnte man es nicht bekennen, weder auf Englisch und schon gar nicht auf Deutsch.
1981, "Tattoo You" – Tour der Greatest "Group on Earth", in der Garderobe jammt Keith mit George Thorogood, der Erste staunt, der Zweite lacht und der Autor kauft seit diesem Datum alle Alben.
Sommernacht im Südwesten, 30 Grad + X, das Tollhaus ist voll, vor Wochenfrist bei der Godmother of Punk war's ausverkauft, geschätzt sind heute Nacht mindestens so viele Bluesspezialisten in zu engen Jeans dem Ruf gefolgt. Wasser sollte man trinken, oder von mir aus auch ein paar Bier – aber drei Flaschen Rotwein?
My parents taught me what life was about
So I grew up the type they warned me about
They said my friends were just an unruly mob
And I should get a haircut and get a real job
Immerhin macht das die hoch gehandelten JJ Grey & Mofro aus Florida mit ihrem nicht einfach zu verdauendem Absud aus Swamp, Soul, und wer es gut meint mit der Band, entdeckt auch geringere Southern-Bestandteile, ertragbarer. Allein, die Georgia Warhorse, fand Einzug ins Regal. Ziemlich redundant das Ganze. Die wollten wohl zu viel heute … egal.
Im Innenraum des angedockten Zeltes brodelt es bedrohlich, wir sind auf Temperatur, Florians Zwischenfazit "wir sollten heute bei Rotwein bleiben" vermag ich durchaus zu folgen, was später noch fatale Folgen haben wird.
Dass ein eingeschriebener Blues-Rocker augenzwinkernd mit der Anti-Vietnam-Nummer "Eve of Destruction" die Blues-Prolls hinters Licht führt, funktioniert, danach gibt es kein Halten mehr. Eine brachiale Blues and Boogie-Messe, immer kräftig mit kernigstem Rock 'n' Roll garniert, als ob es nicht schon heiß genug wäre. Die Suppe läuft, der Rebensaft strömt aus den Poren und George T. turnt auf der Bühne wie einst Großmeister Chuck Berry.
Die Szene-Hits und T-Shirt-Tipps "I drink alone", "One Bourbon … (jetzt grölt auch der Hörsaal), bei "Get a haircut …" sogar textsicher. 600 Luftgitarren im 4/4 Takt.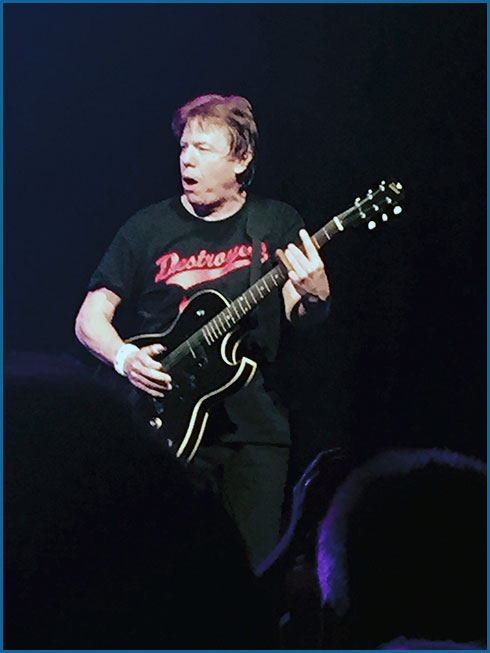 Die Band spielt schon ewig zusammen, abseits der Hitparaden, die Einsätze immer souverän (Buddy Leach am Saxofon), Jim Suhler ist weitaus mehr als ein zweiter Gitarrist. Elektrische Mississippi-Mugge, eine posthume Verneigung vor all den Großen der Blues-Parade, den Diddley's, den Wolf's, den James', … Blues mit Stallgeruch, scheißegal, dass der ganz große Wurf nie gelang.
I even tried that 9 to 5 scene
I told myself that it was all a bad dream
I found a band and some good songs to play
And now I party all night, I sleep all day
Der Schwermetaller lacht. War ein cooler, heißer, Abend, oder?
Im Zug ziehe ich die Delta-Kopfhörer auf und steige viel zu spät aus. Für die Taxi-Gage hätte ich noch zwei Shirts einsacken können …
… and now I party all night, I sleep all day … stimmt irgendwie nicht immer!
Die Band:
George Thorogood (g)
Jim Suhler (g)
Buddy Leach (sax)
Bill Blough (b)
Jeff Simon (dr)
Setlist (ohne Gewähr:
Eve of Destruction (Barry McGuire)
Rock Party
Who Do You Love? (Bo Diddley)
It Wasn't Me (Chuck Berry)
Night Time (The Strangeloves)
I Drink Alone
One Bourbon, One Scotch, One Beer (Amos Milburn)
Cocaine Blues (Clarence Ashley)
Get a Haircut
Gear Jammer
Move It On Over (Hank Williams)
Tail Dragger (Howlin' Wolf )
Bad to the Bone

Encore:
Madison Blues
Die Alben:
Better Than the Rest (1974)
George Thorogood & the Destroyers (1977)
Move It On Over (1978)
More George Thorogood & the Destroyers (1980)
Bad to the Bone (1982)
Maverick (1985)
Nadine (1986)
Live (1986)
Born to Be Bad (1988)
Rockin' My Life Away (1991)
Boogie People (1991)
The Baddest of George Thorogood and the Destroyers (1992)
Haircut (1993)
Live: Let's Work Together (1995) mit Elvin Bishop
I'm Wanted (1995)
Live in '99 (1999)
Half a Boy/Half a Man (1999)
Encore Collection: Extended Versions (2000)
Anthology (2000)
Ride 'Til I Die (2003)
Rounder Heritage Series: Who Do You Love? (2003)
30Th Anniversary Tour Live in Europe (2004)
30 Years of Rock – Greatest Hits (2004)
The Hard Stuff (2006)
Taking Care Of Business (2007)
Live (2007)
The Dirty Dozen (2009)
Boogie People (2009)
Live in Boston 1982 (2010)
2120 South Michigan Ave (2011)
George Thorogood & The Delaware Destroyers (2015)

Gunther Böhm

</p>