Wovenhand

2. August 2013, Visions Party, FZW Dortmund
Selig sind, die da Leid tragen;
denn sie sollen getröstet werden.

(Matthäus, Bergpredigt, Neues Testament)
Keine Sekunde verschenkt David Eugene Edwards für ein Indio-Mantra, kein Zeichen von der Kanzel. Im Sound-Beichtstuhl stehen zweihundert Durstende, die auf Läuterung warten. Der Indie-Folk-Messias mit breiter Krempe, Feder und stechendem Blick jagt mir viel zu knappe fünfundvierzig Minuten ein heftiges Roots-Fanal durch die Adern. Mit der Geschwindigkeit einer Kreissäge auf "heavy rotation", die nur durch ein Stück Hartholz gebändigt werden kann. Es qualmt, der Gestank zieht in die Nase, fräst sich ins Gehirn, fasziniert und angewidert werde ich Teil der modernen Bergpredigt. Die Brachialgitarre erinnert: Ich muss was ändern! Mein positiver Stalker ist zuverlässig, "The Laughing Stalk" okkupiert mich, live und auf Vinyl.
"Into the center, the lots are cast, oh there I am, the laughing stalk laughs …"
Den Song, den Typ, werde ich nie mehr los. Diese Kollektion, ein unglaublicher Lichtblick, Edwards der Nazarener fragt nach, berührt, rüttelt wach, richtet mich. Und richtet wieder auf. Ein Album für die Ewigkeit. Und für die Wahrhaftigkeit. Ordy Garrison prügelt sich am Schlagzeug die Seele aus dem Leib. Das zum Trio reduzierte Tribunal spielt auf den Punkt. Der Lächler ist auf und davon, das letzte Lächeln auch. Der Herr ist mein Hirte, nichts wird mir fehlen.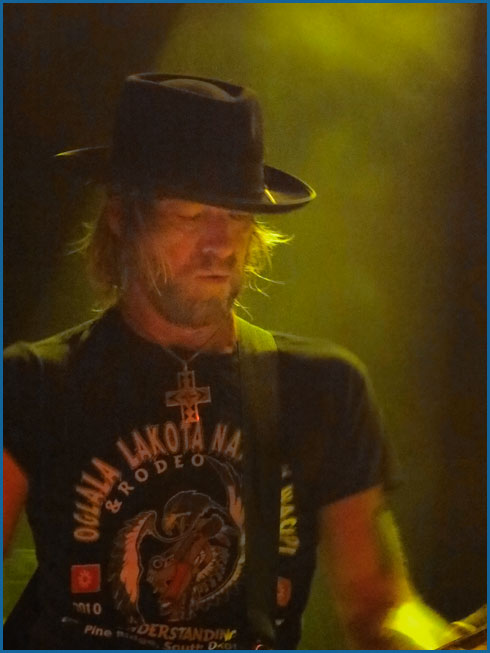 Eindrucksvolle Metamorphose vom Wort zum Sound. Du brauchst Botschaften, die Welt braucht Botschaften. Niemals verliert sich DEE in der Attitüde eines hohlen Messias. Das Banjo des Todes bleibt wieder stumm, die Mandoline sei gepriesen. Zeit zum Luftholen. Habe ich alles zugegeben? Wohl kaum, auch wenn die Band kurzfristig durchatmet, das Tempo drosselt, die Stimme und der diabolische Blick lassen mich nicht los. Die Theke bleibt leer, niemand traut sich Bier zu holen.
Ein Blick auf die Uhr, grußlos verlassen Woven Hand die Empore, ich atme durch, die Ohren klingeln. Aber was heißt das schon? Später denke ich nach. Eine Messe zum Freitagabend. Mea culpa. Nun bin ich bin frei. Endlich!
Eine signierte Eintrittskarte ist für Edwards kein Problem, für mich auch nicht. Siehe: Ein Mensch!

Gunther Böhm (siehe auch "Heavy Rotation", 2012-3)
IN THE TEMPLE (von: The Laughing Stalk)
Surely the stone will cry out .
..
cry out from the wall
and the rafter will answer back
it is finished He has loved them all
from the framework he remembers
Himself ... what he looks like in the mirror
He does sing over himself just to hear
... just to heart
his is not my home
this is not my home ... I am nomad
Spread out above the heads
of the living creatures
a crystal vault of glass reflects
His holy featuresit is not possible to be renewed again
this is done is done is done
the lamb the lamp the son
the lamb the lamp the son
in His temple nowHis tent of flesh and bone
Blessed be Egypt my people
Assyria my handiwork
Israel mine inheritance
the black and spotted sheep
they shall be my wages
to the uttermost for thy possession
O upright one
you make the way
of the righteous smooth
what shall we say
of such wonderful things
of the fruit of lips
that confess Thy name
that confess Thy name
O upright one
You make the way
of the righteous smooth
of the light of day
o righteous one

Ich habe mich redlich "bemüht", mit der Suche nach der passenden Stelle für den Verweis, dass Woven Hand heute Abend Vorband für "…Trail of Dead" waren. Ich bin gescheitert. Kläglich!
Gunther Böhm