Canned Heat
25. April 2014, Haus der Gewerkschaften, Erfurt
Time Was!
Nach den Disco-Mätzchen von "Emotional Rescue" war erst mal Schluss mit den Steinen.
Was Ursprüngliches musste her, rau sollte es sein, ungehobelt, dreckig, schwarz, bloß kein Kommerzverdacht, eben so, wie die "Swinging Sixties" mal waren. Transcendental Blues 1981, hinter Stacheldraht und Schießbefehl hat eben alles länger gedauert. Auf der Straße waren wir, unentwegt, oppositionell, schwer verdächtig und anachronistisch, Kunden-On-The Road-Again. Der Soundtrack, klar die Stones, Chappo, Led Zeppelin, Neil Young und jede Menge Südstaatenblues. Keine Party in Thüringens Dorfdielen (die haben Dienstag bis Donnerstag miese Bockwürste und Bier verhökert, freitags bis sonntags dann Kräuterschnäpse in nicht vorstellbaren Einheiten und ebensolche miesen Bockwürste) ohne Eric Burdon, Allman Brothers, schon gar keine ohne Canned Heat: On the road again, immer wieder. Eine wahre Blueswelle schwappte über das Werra-Delta. Future Blues im real tobenden Sozialismus, na Gott sei Dank bin ich Atheist.
Die, ich weiß nicht wievielte, Reunion mit immerhin zwei quasi-Gründungsmitgliedern lockt reichlich fleischgewordene Anachronismen an, Rocker, Blueser, jedenfalls ist das Haus der Gewerkschaften gut gefüllt, in jeder Beziehung.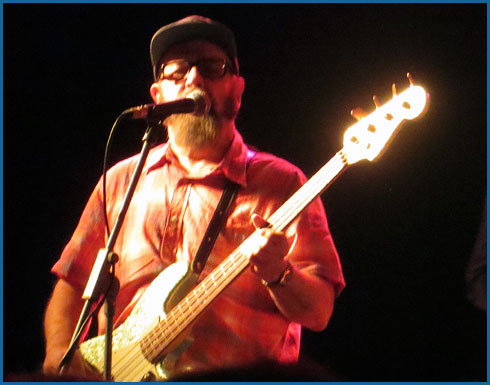 Tieftöner Larry Taylor mit einem Abstecher von Tom Waits zu Fito de la Parra, Musical Director, seit vielen Jahren in der von Schicksalsschlägen gebeutelten Band, Al Wilson, Bob Hite (der eine schier unglaubliche Blues-Vinylsammlung von über 70.000 Exemplaren besaß), Robert Lucas, Kenny Edwards, der grandiose Henry Vestine, Mike Mann, Antonio de la Barreda, Ronnie Barron, allesamt im Blues-Heaven.
Das große Manko der einstigen Blues-Apologeten ist die Berechenbarkeit der Show, die Bedienung der Altvorderen, eine gewisse Larmoyanz des Auftritts, selbstgefällig vor einem selbstgefälligen Publikum, keine Risikobereitschaft. 1969 haben Heat das für den Blues klassische 12-Takt-Schema verlassen und 13 Takter ausprobiert. Atonal war "Hallelujah" deswegen noch lange nicht. Die Setlist liefert was (fast) alle erwarten und dazu reichen knapp 80 Minuten inkl. "Refried Boogie", vom Boogie-Kracher "Livin the Blues" - freilich keine 40 Minuten lang.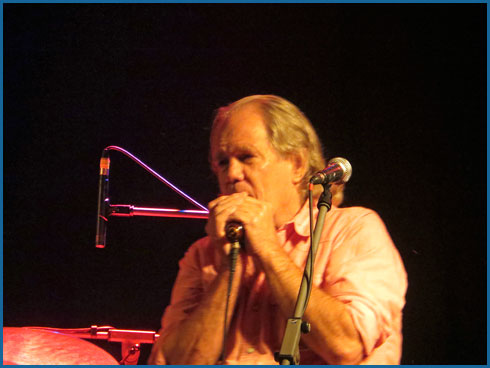 Manko zwei, das Dale Spalding weder ein Frontmann ist (zweifellos klasse an der Blues-Harp) noch über Stallgeruch verfügt wie z.B. ein junger, formidabler Walter Trout in den frühen Achtzigern und das leicht angezerrte, fuzzy gespielte, Gitarrenbrett eines Henry Vestine der Combo völlig abgeht.
Früher als erwartet ist der Juke-Box-Spuk herum, Zeit zum Abschiednehmen, schade, der ist wohl für immer. On The Road Again …
Time Was!
Die Alben:
Canned Heat (1967)
Boogie with Canned Heat (1968)
Living the Blues (1968)
Hallelujah (1969)
Future Blues (1970)
Vintage (1970)
Canned Heat '70 Concert Live In Europe (1970)
Hooker 'N Heat (1970)
Live At Topanga Corral (1971)
Historical Figures and Ancient Heads (1972)
The New Age (1973)
One More River to Cross (1973)
Memphis Heat (1974)
Gates On Heat (1974)
Human Condition (1978)
Captured live (1980)

Hooker'n'Heat, Live at the Fox Venice Theatre (1981)


Kings of the Boogie (Dog House Blues) (1981)
The Heat Brothers '84 (1984)
Infinite Boogie (1986)
Boogie Up The Country (1987)
Reheated (1988)
Burnin' live (1991)
Boogie Assault ; reissues Live in Oz (1991)
Canned Heat Live (1993)
Internal Combustion (1994)
King Biscuit Flower Hour (1995/1979)
Live at Turku Festival (1995)
Canned Heat Blues Band (1996)
The Ties That Bind (1997 / rec. 1975)


House of

Blue Lights (1998)
Boogie 2000 (1999)
The Boogie House Tapes (2000)
Friends in the Can (2003)
The USA Sessions (2003)
The Boogie House Tapes Volume 2 (2004)
Under Dutch Skies (2007)
Christmas Album (2007)

Gunther Böhm