Wovenhand

15. September 2014, Karlsruhe, Tollhaus
Hoffen auf Erlösung
Please allow me to introduce myself
I'm a man of wealth and taste
I've been around for a long, long year
Stole many a man's soul to waste

And I was 'round when Jesus Christ
Had his moment of doubt and pain
Made damn sure that Pilate
Washed his hands and sealed his fate …
Ein Typ, der Torgeir Waldemar heißt, aus Norwegen kommt und Akustikbrett wie zu besten Zeiten der "Generation X" schrammelt, mit leisem Tremolo, der muss cool sein. Der ist cool. Selbst dem Musiklehrer im gut besuchten Tollhaus wird klar, was "drop E" ist.
Oder doch nicht. Egal, Torgeirs launisch-lakonische Ansagen zu "sad, sad Songs", seine vom Faulenzer-Kapu gebremste Klampfe, die final immer anschwillt, mit einem Sound von zig Gitarrenspuren, locken in einen epochalen Abend. Nicht weniger. Und eh du dich versiehst, ist der Kapu abmontiert und die norwegische Klasse strahlt. Kein Licht, keine Gimmicks, 100% pure Music, ach ja, kein Songwriterabend ohne "Songwriter-Machine". Was das ist? Mann, die Harp! Im Oktober kommt ein Album raus, klassischer Aspirant für den Plattenschrank.
Pause, Zeit zum Pinkeln, wie aus dem Nichts hat die Band aus Elktooth, CO, die Bühne okkupiert.
Schamanen vor uns, Schamanen unter uns, Hüsker-Dü-Shirts neben Cash. Eine Vereinigung der Unvereinbaren. Mystik wabert durch die Follower. Das Gericht beginnt. "Refractory Obdurate" schließt konsequent da an, wo The "Laughing Stalk" endet, kein dezenter Gitarren-Folk mit Bandoneon, kein freakiger Alternative Country. Niemals Versöhnung. Riff um Riff, Lick um Lick. "Obdurate" treibt es auf die Spitze und unerfahrene vor die Tür. Schöne Grüße! Florian flüstert und schreit mir ins Ohr: das ist Post-Punk! Oh, ja, und Crime And The City Solution, Joy Division, Punk, Metal, Doom und zwischen all den Geräuschen die ich nie mochte, strahlt die, hey hey, Americana-Klampfe.
Der Messias rotzt uns die Botschaften vor die Füße, angetrieben, weiter, immer weiter, vom diabolischen Michael P. Ricketts am Schlagwerk.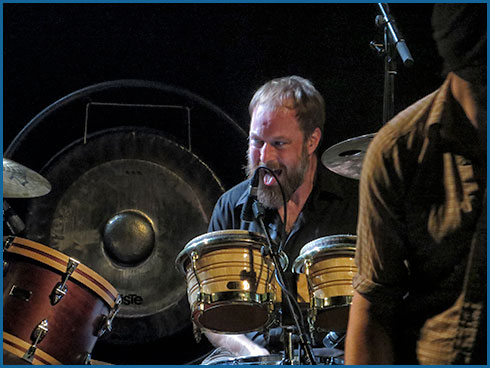 Hau drauf, geisel die Double-Snare, voran-voran! Und erlöse uns endlich. Siebzig Minuten ohne Atempause, keine Zeit zum Luftholen, nicht vor der Bühne und schon gar nicht auf der Bühne. Ach was Bühne, alles und alle sind in einer Ebene angekommen, ein Speedball der Entfesselten. Neel Keener an den dicken Saiten hat uns da schon lange verlassen. Bassläufe brodeln bedrohlich aus den Amps, Rickett schlägt zurück. Eine Rhythmusfraktion für Fortgeschrittene, ein irrwitziges Tempo, um doch irgendwie "Americana" zu sein. Der Mandolinenmoment verspricht Erlösung, nein jetzt nicht. Erst die Zugabe durchschlägt den Knoten. Ich bin besessen …
Pleased to meet you
Hope you guess my name, …
Ja, mein Gott, DEE!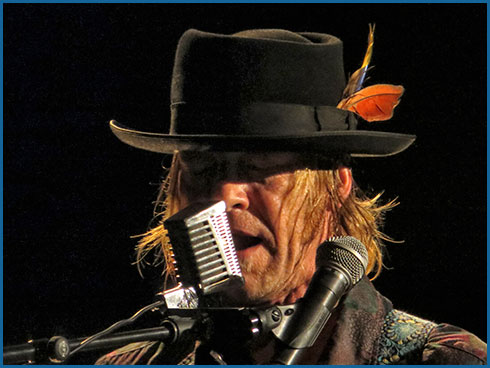 Die Band:
Chuck French (g)
Michael P. Ricketts (dr)
Neel Keener (b)
Setlist (ohne Gewähr)

Hiss 
Closer 
Maize 
Horse Head Fiddle  (16 Horsepower)
King O King 
Masonic Youth 
El-bow 
Corsicana Clip 
The Refractory 
Obdurate Obscura 
Long Horn 
Field of Hedon 
Salome 
Good Shepherd 
Encore:
Glistening Black 
Kicking Bird 

Die Alben:
Woven Hand (2002)
Blush Music (2002)
Blush - mit Ultima Vez (2003)
Consider The Birds (2004)
Mosaic (2006)
Puur - mit Ultima Vez (2006)
Ten Stones (2008)
The Threshing Floor (2010)
Black of the Ink (2011)
The Laughing Stalk (2012)
Refractory Obdurate (2014)
Sixteen Horsepower
16 Horsepower EP (1995)
Sackcloth 'N' Ashes (1995)
Low Estate (1997)
Hoarse (1998)
Secret South (2000)
Folklore (2002)
Olden (2003, Sessions)
Live March 2001 (2008)
Yours Truly (2011, CD1: Best of / CD2: B-sides & Rarities)

Gunther Böhm

(siehe auch "It's only Rock 'n' Roll", 2012-3 und 2013-1)